Forklift certification – Patentino per Carrelli Elevatori (muletti)
The "patentino per carrelli elevatori" is the mandatory certificate that workers must have in order to use forklifts. If you are looking for a job, getting your permit could help you increase your skills. To obtain the permit, it is necessary to attend a short training of 12-16 hours and pass the tests.
Carrelli elevatori (forklifts), also called muletti, are machines used to transport and move goods and loads in many workplaces like warehouses and hangars (industrial, agricultural and commercial).
To use the forklift, you need to have the patentino per carrelli elevatori  (forklift certification), which you can obtain after taking a training course and passing the tests.
Italian law prohibits the use of forklifts for workers who do not have a license or have an expired one. In the event of inspections, workers, and employers who are found using the machinery without a valid license risk fines.
On this page, you will find all the information on the license for forklifts, training courses, costs, and benefits for people who are unemployed or receiving cassa integrazione.
Today, many workplaces (warehouses, storages, hangars, etc.) use types of machinery called carrelli elevatori (forklifts) to transport and move large loads and goods.
To use the forklifts, workers must have the patentino per carrelli elevatori that they obtain after taking a training course. Find more information about the training course below.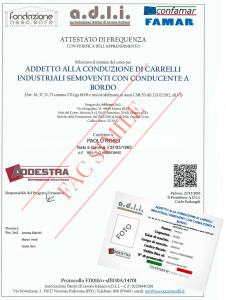 The patentino is a paper certificate valid throughout the Italian territory for 5 years. In addition to being mandatory for using forklifts, the permit is a tool that helps the worker demonstrate their skills.
The permit can be obtained for one or more types of forklifts. These are:
Carrelli industriali semoventi –

self-propelled trolleys: machines that are used to transport and place any type of load at different heights

Carrelli semoventi a braccio telescopico

– self-propelled trolley with telescopic arm: machines that have fixed arms (which do not turn) used to stack loads

Carrelli semoventi a telescopici rotativi –

self-propelled rotary telescopic lifts: these are machines that have rotating arms (not fixed) used to move loads
A driving license (B or C depending on the load) is also required if forklifts are driven on public roads. If instead, the forklifts are used in the company or other workplaces, a driving license is not required.
To renew the patentino, it is necessary to follow a refresher course (see below).
REMEMBER: It is not allowed to use forklifts without a permit or with an expired permit.
To obtain a permit for forklifts, it is necessary to take a course. The courses are called "corso per patentino per carrelli elevatori" or "attestazione di abilitazione per la guida di carrelli elevatori".
To enroll in the course, you do not need to have experience with forklifts. A medical certificate, however, may be required to know the health status of the participant.
The training courses are offered by various public offices such as the regions and provinces, the Centro per l'Impiego, the Ministry of Labor, INAIL and sindacati. It is also possible to enroll in private courses organized by accredited training institutions, private schools, and companies.
The courses last 12 or 16 hours, depending on the course and the type of forklift.
All courses have a theoretical and a practical part.
During the theoretical part, the participants study several important rules: hygiene, safety, worker responsibility, mechanics, use of forklifts. Today, many institutions offer the possibility of following the theoretical part in the classroom or remotely (online).
In the practical part, participants learn how to use forklifts together with professional instructors.
Upon completion, it is necessary to pass the theoretical and practical tests. To obtain the license it is also necessary to have attended at least 90% of the lessons. 
REMEMBER: the permit is a paper certificate. Some organizations also offer an optional plastic card at an additional cost of 10-15 Euros. Remember that this card has no legal value and you do not have to buy the plastic card. In case of inspections, you must show the paper certificate.
The cost of training courses varies depending on the organization offering the training.
Public bodies offer courses at a lower cost.
In addition, local authorities and Centri per l'Impiego often organize free courses for unemployed or people who are in cassa integrazione (employees are paid by the state because their work is reduced or suspended at the request of the employer). For these courses, there may be requirements: minimum age, unemployment status for a certain period, registration with the Centri per l'Impiego of your city, etc.
The training courses offered by private bodies (companies, schools, other accredited bodies) generally have a higher cost of about 200-300 Euros: with a starting cost of at least 125 Euros for carrelli elevatori semoventi; 180 Euros for carrelli telescopici; 200 Euros for forklifts of all kinds.
NOTE: If the course is required by the workplace, the cost of the course is paid by the company. In addition, many training organizations allow participants who fail a test to repeat it once for free or at a reduced cost.
People who already have a permit and want to continue using it after the validity date (5 years) can renew the permit.
It is necessary to take a refresher course before the expiration date. The refresher courses last approximately 4 hours.
The cost of the courses varies depending on the organization offering the training but is usually around 65-85 euros.
The training courses to obtain the patentino are many and they are organized by many public and private bodies.
If you are interested in finding a training course near you, you can do an online search:
Site of your region

Sindacati

in your city

Writing on Google:

Patentino per carrelli elevatori

+ your city
Remember that the permit is also called "attestazione di abilitazione per la guida di carrelli elevatori".
You might be interested in