Who we are and what we do
What is ItaliaHello?
ItaliaHello is an online center for migrants, refugees, and asylum seekers.
A website that serves as a hub of reliable information and useful resources to build a new life for you and your family in Italy.
We all use the internet to find answers to many questions of everyday life, to learn new things, and to understand how local services work. Even more so when we have just arrived in a new country.
It is important to find answers that are sure, easily accessible, and clear, even if not if we do not know the language well.
Through a responsive and verified information service, we want to help you find your way around in Italy and learn more about the history and culture of the new community you are now part of.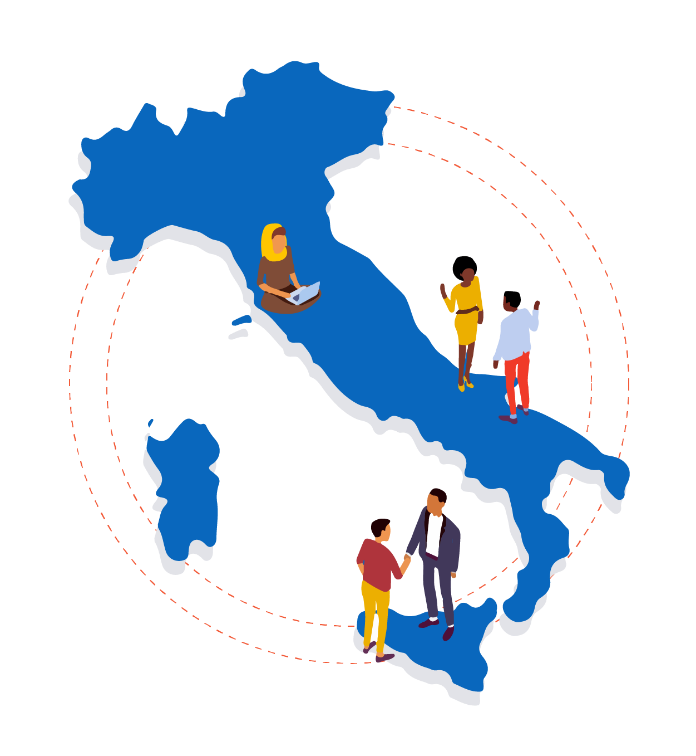 Our content is created by experts, cultural mediators, and people who are new to Italy in order to find the information that is useful to you. It is always updated and checked with experts to offer you information that is always current and correct.
The information is written in simple Italian, for people learning Italian, and translated into other languages ​​to make it available as to as many people as possible. We are always working to add new languages.
ItaliaHello provides information to help you with every part of your new life. You can learn how to apply for documents, enroll in school, find a job, and many other things. We are also creating other digital tools, like apps and online courses, to offer you support in many ways.
Our work is guided by the needs of those arriving in Italy and developed with the regular advice of newcomers. We study migration and we use the internet to understand people's questions and needs to create useful content that you can understand and access on your computer or smartphone.
You can help us make ItaliaHello better and give us more ideas for helping more people like you, by writing to info@italiahello.it.
We believe that reliable and accessible information is a human right. This is why the content and resources we offer are completely free and for everyone.
Our work is supported by philanthropic organizations and private donors who consider migration an opportunity for development and enrichment and something to be fought.
Access to our content is anonymous and secure and you will never be asked to share your name. We do not share and sell information about our users to public or private entities.
The website is designed to be used directly and autonomously by migrants, refugees, and asylum seekers and it is aimed primarily at them. However, it can be useful to the entire host community.
ItaliaHello resources are accessible to all those who wish to find information and be more involved in immigration, sharing effective messages and positive narratives, volunteering, and more.
Multilingual translations, toolkits, and videos can be useful tools for many Third Sector realities that work locally with migrants.