Employment Center (Centro per l'Impiego)
You might have heard of the employment center (Centro per l'Impiego). The employment centre can help you to find a job, take training or ask for information about work. Find out how the employment centre works and how to register for free.
The employment center (Centro per l'Impiego) is a public office that offers free services to assist job placement and vocational training for both Italian citizens and foreign citizens who regularly live in Italy.
To use the services of the employment center, you must sign up first. Enrollment is free.
You can sign up with the employment center if:
you are between 16 and 65 years old and attended at least middle school (scuola media);
you are not working, meaning you are unemployed;
you are resident in Italy (if you are an asylum seeker or a refugee in a reception center you can use the address of the reception center as residence);
If you go to an employment center to register, remember to check if you have these documents first:
An identity document, such as electronic identity card (carta di identità) or residence permit (permesso di soggiorno). If you are waiting for the renewal of your residence permit, you can simply submit the renewal receipt.
The tax code (codice fiscale). The tax code can also be found in the residence permit, electronic identity or health card (tessera sanitaria).
Attention: you can sign up with the employment center only if you have one of these types of residence permits:
Residence permit for employed work – Permesso di Soggiorno per Lavoro Dipendente;
Residence permit for pending employment – Permesso di Soggiorno in Attesa di Occupazione;
Residence permit for international protection – Permesso di Soggiorno per Protezione Internazionale;
Residence permit for self-employed persons – Permesso Soggiorno per Motivi di Lavoro Autonomo o Commerciali;
Residence permit for family reasons – Permesso di Soggiorno per Motivi Familiari;
Residence permit for special cases and international protection – Permesso di Soggiorno per Casi Speciali e protezione speciale (the permit for medical treatment, or permesso per cure mediche, is not included).
At the employment center, you will be asked for information about yourself, your legal and employment status. In particular, you will be asked to sign two documents:
1. Dichiarazione di Immediata Disponibilità (DID) al lavoro.
Dichiarazione di Immediata Disponibilità al lavoro (DID) is a document that demonstrates to the Italian Government that you are not currently working and, therefore, you are unemployed. With this document you can participate in free professional training courses, internships or apprenticeship, etc. The DID activation is done only online and you can choose between two different ways:
Go to an employment center (Centro per l'Impiego) or patronato in person. Here, you will find someone who will help you to activate the DID.
Online on the website of the national employment agency ANPAL. Register by filling out the appropriate form as a citizen, or cittadino.
Important: before proceeding with the release of the DID, make sure you have an email address where you can receive all communications that can interest you.
2. Patto di Servizio
After the DID you will need to sign another document called the Patto di Servizio Personalizzato (PSP). With this document, the government commits to support unemployed people and the person looking for a job commits to follow training courses, professional integration or accept offers from the employment center.
The employment center may ask you to leave your CV after registering. You can learn how to write a CV and then use it to respond to job postings on the website. Or, if you do not yet have a CV, you can ask for an appointment at the employment center to help you write your CV.
After filling out the 2 agreements, DID and Patto di Servizio, the Italian law officially recognizes you as a person out of work, recognizing you as unemployed.
Remember that there may be checks to verify your situation and if conditions change you can lose your unemployment status. Unemployment can in fact be lost for different reasons:
If you do not show up to the appointments at the employment center without a valid reason. You will not be able to file a new unemployment declaration before at least 60 days have passed.
If you do not participate in the recommended activities, like for example professional training activities, etc.
If you find a job as an employee and receive an annual salary higher than 8,145 euros. Or, if you work on your own, if you exceed an income of 4,000 euros per year.
If you refuse a job offer made to you by the employment center. The job offer must be in line with your experiences and reachable by public transport from the place where you live.
Many employment centers, especially in the largest cities in Italy, have opened branches dedicated to migrants to resolve work-related issues and above all to find out about job placement opportunities. Here, you can find linguistic and cultural mediators who can help you. Ask the employment center in your city if they offer this type of assistance.
If you have difficulty with the language, ask if an interpreter is available before going to the appointment you have set. That way, you'll know in advance if they can help.
You can do a Google search by writing "Centro per l'Impiego + name of your city".
Click here to find the Employment Center in your area.
Select the province where you live and in tipo di sportello select "Centri per l'Impiego".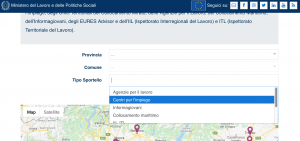 Want to know more about the employment center? Watch these video that help you understand how it works and how to make an appointment.
You might be interested in