Everyone who lives in Italy must have a tax code (codice fiscale). It is a unique number used to identify individuals and access various public services. Every person has the right to have a tax code. Find out how it works and where you can get it.
In Italy, the tax code is a very important number that you will need for many things, for example:
To have an employment contract;
To open a bank account;
To access non-emergency health services;
To rent a house;
To receive tax refunds;
or for other procedures at government agencies such as police headquarters (Questura), job centers (Centro per l'Impiego), etc.
The Tax Code is a sequence of letters and numbers determined according to your personal details (name, surname, date and place of birth).
Who can apply for a tax code?
All foreign EU citizens (from European Union countries) or non-EU citizens (from countries outside the European Union) can request a tax code when they apply to enter in Italy at the general Immigration Office (Sportello Unico per l'Immigrazione).
How do I apply for a tax code?
Non-EU citizens applying for asylum or another type of residence permit in Italy can apply for a tax code directly at the general Immigration Office (Sportello Unico per l'Immigrazione).
When you receive your residence permit, you will find your tax code printed on this document along with your other personal details. If for some reason you don't see your tax code printed on it, you can apply for it at these offices by providing proof of identity:
EU citizens can apply to the Italian Revenue Agency directly using the AA4/8 form. You must provide proof of identity and a valid address where the document will be sent.
How much does the tax code cost?
Getting a tax code is free.
Where can I read my tax code?
You can find your tax code printed on these documents:
Residence permit (Permesso di Soggiorno);
Italian National Health Insurance Card (Tessera Sanitaria);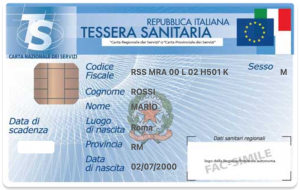 When you are asked for your tax code number, you do not always have to produce one of these documents; you can just provide the correct number.
What can you do if you lose your tax code?
You can request a copy directly online by clicking here.
Or by visiting your nearest Italian Revenue Agency office. Click here to find your nearest local office.
Temporary tax code
The temporary tax code consists of numbers only, unlike the permanent tax code, which consists of letters and numbers according to your personal details.
In 2016, a law introduced a temporary code for individuals applying for asylum in Italy. Now, this law no longer exists. If you still have a tax code containing numbers only, don't worry because you can access the same services that require a permanent code.
Sanatoria and codice fiscale temporaneo: if you have applied for regularization you can receive a provisional codice fiscale that will be converted into the permanent one when your application is verified. To find the temporary codice fiscale, you have to login on the page https://nullaostalavoro.dlci.interno.it/ through the Spid of your employer (or through the CAF center that helped you make the application for regularization). After logging in under "Domande" click "Visualizza Codice Fiscale".
The temporary code is useful because you can ask for your tessera sanitaria and you are entitled to health care.
Useful link
Agenzia delle Entrate

Read how to apply for a tax code on the Italian Revenue Agency website.

Go to the link