In addition to a passport, the citizens of non-European countries need a visto (visa) to enter Italy. Find out what a visto is, how many types of visto exist and how to apply for it.
Every person from a non-European country who wants to enter Italy must have a
visto
(visa). The only exception is for people who enter Italy to apply for international protection.
The
visto
is the authorisation of the Italian state to legally enter the country. It has the form of a sticker and must be applied to the passport. It will then be checked by officers at the airport or at the border.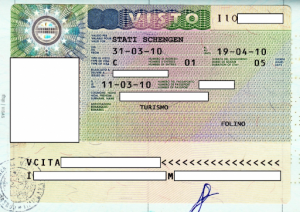 Types of visas
There is a specific type of
visto
for each reason for entering Italy. The most common are: 
Visto per lavoro (read the information on the

decreto flussi

if you want to come to Italy for work reasons)

Visto per studio (student visa)

Visto turistico (tourist visa)

Visto per cure mediche (medical treatment visa)

Visto per affari (business visa)

Visto per motivi familiari (family visa)
And visas can be:
Per soggiorno di breve durata (short stay)

with a

visto per soggiorno di breve durata

 (called

visto

Schengen) you can stay in Italy for up to 90 days. This type of

visto

is mainly for tourists, business trips or cultural visits. The cost of this

visto

is € 60.

Per soggiorno di lunga durata (long stay) with a visto per soggiorno di lunga durata (called visto nazionale) you can stay in Italy for more than 90 days. This visto is mainly for work, study or family reasons. A visto per soggiorno di lunga durata costs € 116, with the exception of visto per studenti which costs € 50.
Do you need a visto to enter Italy?
On
this website
of the Ministry of Foreign Affairs, available in Italian, English, Arabic, Russian and Chinese you can find out:
If you need a

visto

Which documents you need to apply for the visto

Its cost
How to apply for a visto
You must apply for a
visto
at the
Italian Embassy or Consulate
in your country of origin or residence.
In some countries you must go physically to the Italian embassy or consulate to apply for the visa. In other countries you must apply online through an external private agency that works for the embassy or consulate. Here is
the list
of countries that manage applications through external agencies and the links to the agencies' portals.
In general, for all types of
visto
you must provide the following documents and information:
completed application form

passport size photo

your valid passport

duration and reason of your stay in Italy (work, health, etc.)

your outbound and return flight details

proof that you have the money to support yourself for the duration of your trip and stay 

health insurance with a minimum coverage of € 30,000

declaration of accommodation (the address of your accommodation in Italy)
You will also be asked to provide specific documents based on the type of
visto
that you apply for, to confirm your reason for entering Italy. Here is
a list
of specific documents according to the types of
visto
.
The
visto
is issued by the embassy or consulate within 90 days from the date of your application. If the embassy needs clarifications or more documents, it can take longer than 90 days.
If the visto is denied, the person will not be able to enter Italy.
Make sure to apply at least three or four months before your departure for Italy.
Useful link
Website of the Farnesina with information on the visa for Italy

On this website you can find out if you need a visa to enter Italy and how to get it

Go to the link

Website of the Ministry of the Foreign Affairs with information on Italia embassies and consulates in the world

On this website you can find out the address and other information on the Italian embassies and consulates in your country.

Go to the link
You might be interested in